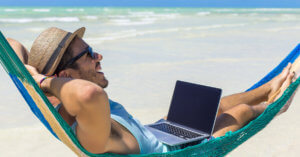 With the summer solstice behind us and the season in full swing, business collaboration takes on a whole new meaning. Summer for some companies means shorter work days, employee vacations and more sunlight in the day. How do you keep the bottom line met while still providing your employees with a company culture that fits into their summer plans? In business terms, collaboration used to mean a conversation across a desk. With evolving company cultures, it has come to mean an interactive experience on multiple devices, with multiple methods, between multiple people, located in different states/countries/continents, anytime, anywhere. Knowledge is shared in real time, work is done more efficiently, and relationships between employees, vendors, customers and suppliers are taken to another level. Collaboration plays a critical role in today's business environment, but how do you maintain it during the summer season and simultaneously create a positive company culture?
For employees who want to spend a day home with the kids or leave work early for tee-ball games, web meetings are a huge component of unified communications that make working from home possible. Accessibility to communications tools such as web conferencing are key to employee productivity when they work from home. In many ways, web meetings can be more productive than in person meetings depending on the purpose of the meeting, and are much more effective than simple conference calls. Plus, if a participant cannot be near their PC at the time of the web meeting, or are running late, they can join from their cell phone and not hold up the entire meeting for others. We acknowledge that working remotely doesn't work for every business plan, but for jobs that can be done from home, the accessibility to web meetings can make this a reality for your employees this summer. Offering flexibility makes them happier and showing that you trust them to work outside of the office holds them accountable to still perform away from the cubicle.
In order to make a work-from-home program this summer successful for your business, even if it's just a few days a month or on an as-needed basis, businesses must provide employees with the same access to communications, data, and applications no matter if they are in the office or at their home office. Web meetings certainly help build the business case, and will help you offer employee benefits that will pay off with company culture being at an all time high. Microsoft Office 365's Skype for Business component makes web meetings and other remote communications tools much easier, especially since the chances your business is already using Office 365 in some capacity is pretty high.
To offer your employees with the latest web meeting and unified communication solutions contact AltiGen for the company culture solutions you're looking for this summer.