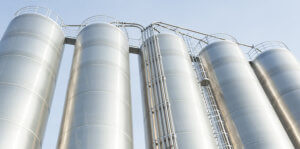 Email remains a primary communication function for many businesses. Most likely, your employees use email to communicate with colleagues, customers and vendors on a daily basis. Phone calls continue to be used for customer support, sales calls, business partner and intra-company communication when further clarification is needed on a topic discussed in email. Instant messages are used to get quick answers between employees. Web meetings are held to showcase a sales presentation to prospects. All of these methods of communication within a business serve a very important purpose, but too often rely on multiple vendors and applications, operating in silos. Your business can't afford to operate in silos. Integrating all of the ways you communicate and collaborate can increase productivity, simplify your workflow and increase your profitability.
As the dominant player in the market, integration of your communications into Microsoft's Skype for Business platform is a great way to improve communication efficiencies. Having these functions operate in conjunction with each other allows your employees to reach the right person at the right time and get immediate responses. The ability to collaborate in real time will shorten project duration. Web Meetings reduce travel time and expenditures, and your carbon footprint.
Hosted Skype for Business, a feature now available with most Office 365 subscriptions, gives you the ability to use one application for all your communication needs, from IM to email, web meetings to phone calls. It takes most of the silos of your company communications and combines them into one comprehensive solution. However, it still has a shortcoming in its approach to advanced call features, and in many cases businesses with help desks and contact centers are forced to operate those more advanced calling functions in their own silo. This is counter-productive to the philosophy behind UC.
AltiGen extends those capabilities to include advanced calling features such as auto attendant, hunt groups, advanced call routing and more, so even the more complicated demands of a help desk or call center can operate within your eco-system and not in a separate silo. Integrating all your communication applications with a fully managed hosted solution allows you to work better, not harder.
Learn more about AltiGen's Hosted Skype for Business solution.