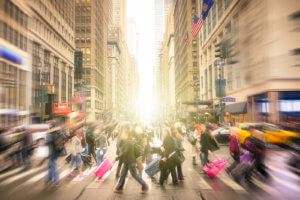 Bicoastal couples or families divided by land and seas have been loyal fans to Skype for years. When introduced to the world in 2003 the concept revolutionized the way we communicate as a society. Now 13 years later, the way your employees communicate is changing because of the Skype for Business mobile app. The workplace is always evolving and as we embark on 2018 we will continue to see the trend of mobile workforces increase. By adopting the mobile app from Skype for Business, a world of opportunity is presented to your company and your employees.
Whatever a mobile workforce looks like for your company, the simple mention of it attracts employees. Whether you decided to let employees work from home once a month or take the whole operation on the move, Skype for Business is the key to success. Having a mobile workforce is an opportunity for your company to have access to highly desirable employees who may be located in different regions of the world, or tap into additional resources that aren't abundant locally. With a mobile workforce, you can also hold onto employees who may be relocating because of a spouse, or perhaps just in search of warmer weather. Losing a beloved employee over relocation is never a fun pill to swallow.
Related Article: Save Yourself the Runaround with Instant Messaging
Long gone are the days where CEO's believed employees would binge the latest Netflix series on the company's dime if they were to work from home. Remote employees, who have access to the right resources, can be just as productive as employees working in the office. With the Skype for Business mobile app, employees will have access to…
Instant Messaging – This tool is accessible from the desktop app, of course, whether you're sitting at the office desk or logging in from your home office in PJ's. From the mobile app, you can reach out and respond to people from your mobile phone or tablet, so you're really available whenever (and wherever) you want to be. Great for traveling salesman who need to check in with clients or CEO's who need an instant answer from someone back at the office.
Web Meetings – Web meetings are a huge component of Skype for Business that makes working on the move possible. Accessibility to communications tools such as web conferencing are key to employee productivity. In many ways, web meetings can be more productive than in person meetings depending on the purpose of the meeting, and are much more effective than simple conference calls. Participants can join from their cell phones and have the same interaction features they would have if working from a laptop or tablet.
Advanced Calling Features – A mobile workforce needs access to your company's phone system in order to be completely effective. By partnering with an expert like Altigen, the capabilities of Skype for Business uniquely expand to include advanced calling features such as auto attendant, hunt groups, advanced call routing and more, so even the more complicated demands of a help desk or call center can operate within your eco-system, and work well to locate employees when reachable only via mobile phone.