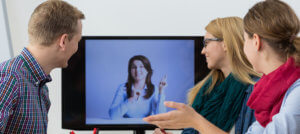 Technology is constantly evolving. No surprise statement there. We have all bought the latest mobile phone, only to be envious of the next model that comes out a few months later with more features… Or TV, gaming system, iPod, etc. If only we knew to wait just a few more months for the next big thing. The same holds true when it comes to the technology enabling Unified Communications.
Believe it or not it was in 1936 that the first public video calling service launched in Germany with a hardwired video-phone booth that allowed people in 5 German cities to talk for 20p per minute, which was about 1/15th of a weeks wages. Imagine the tech envy the people of the 30's would have of today's video conferencing abilities!
Later, in 1970, AT&T developed the Picturephone. At only $160 per month you could transmit pictures from one business to another – so long as you both had the service, and both were located in downtown Pittsburgh.
Fast forward 12 years to 1982 when Commercial Labs offered the first "public" video conferencing service at the "low, low price" of $250,000. It is no surprise that when new technology becomes available it can be grossly overprices, but that price tage may lessen the sting of how much some of us paid for HDTV's or Blu-Ray players when they first came out.
It wasn't until the ubiquitous access to broadband services that video conferencing became a reality, and in 2015, Hi Definition Video conferencing with Skype, Google Hangouts and Apple FaceTime hit the consumer sector, while solutions like Skype for Business served business needs. But what I wish I knew last year that I know now is that Skype for Business, while an integral part of Office 365, did not have all the features that businesses need, but with companies like AltiGen leading the way, it is now possible to have a complete Unified Communications platform for any size business today.
More and more companies like yours are adopting Office 365 and are now looking to replace their legacy PBX systems with Cloud PBX. But – compared to migrating premises-based Office and Exchange to Office 365, converting a legacy PBX to Office 365 Cloud PBX is much more complicated. That's where AltiGen comes in.
As a leading Microsoft Cloud Solutions Provider, AltiGen has natively integrated PBX and Contact Centers applications with Office 365 and Skype for Business to provide a complete Enterprise Cloud PBX solution – all based on Office 365, delivered as fully managed hosted service. This application suite allows customers to enhance Response Group capabilities, automate corporate Contact Centers, add Call Recording and implement end-to-end reporting. As a natively integrated Skype for Business solution, it can be deployed on premise or in the cloud.
Knowing now that Skype for Business can provide the features and benefits businesses today need, will enable companies to realize the reduction in cap-ex and increased productivity that a true Unified Communications platform can bring.
To learn more about AltiGen and MaxACD, click HERE.