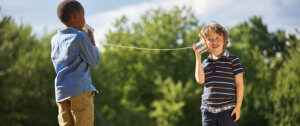 We have been discussing the many features of Skype for Business as part of your organization's overall Unified Communications strategy. It is an immensely powerful tool when it comes to improving intra-company communications, and has numerous features to assist in communicating with the "outside world," such as the ability to initiate a web meeting with up to 250 people on the fly! An additional feature of Skype for Business is called Federation. This is the ability to connect and communicate with Skype for Business users in other organizations using instant messaging, see each other's presence, and initiate audio and video calls.
In his blog, Byron Spurlock's Lync and Exchange Server Insights, Spurlock details the different Federation settings that businesses can choose from, depending on just how open they want their Skype channel of communications. Administrators like these levels of customization because it lets them better control their Skype environments. The types of Federation most commonly used are:
Discovered Partner Domain (aka Open Enhanced Federation)
Allowed Partner Domain (aka Enhanced Federation)
Allowed Partner Server (aka Direct Federation)
Although the different types of federation might seem similar, there are important differences. Spurloch details "Discovered Partner Domain federation is great if you don't mind your users talking to people in any other organization (even competing organizations) set up for partner domain discovery. If you want to be more selective, Allowed Partner Domain federation is better. Your users will be able to talk with people in any partner organization that is set up for partner domain discovery and has its SIP domain specified in your list of federated domains. Allowed Partner Server goes a step further. Your users will be able to talk with only those people in partner organizations whose SIP domains and Access Edge server FQDNs are specified in your list of federated domains."
Ultimately, opening up Federation allows users to easily communicate with other companies utilizing all the same modalities they have with users in their own environment. Of course this is dependent on both companies having this feature enabled, and to what level they want to allow its use within their network. By doing so, a company takes steps to further enhance and support their Unified Communications.
Learn how AltiGen's integration with Office 365 and Skype for Business can bring together your UC strategy.