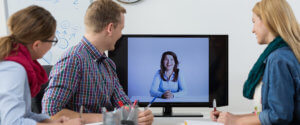 Technology has enabled us to communicate in many forms. Telephone calls, video conferencing, instant messaging, text messaging, email and more. In fact, it is likely that the majority of your communication at work is done in some method other than face-to-face, and unless you work in a call center, it can almost be guaranteed you spend more time communicating with employees or clients via email or IM than you do on the phone. However, there are times when an email chain to resolve an issue spirals quickly out of control, especially when more than two people are involved, and a meeting of minds is called for. Skype for Business makes setting up, scheduling, and conducting meetings so easy, the time your employees gain from solving otherwise time consuming projects or problems will speed up all of your business processes.
Within the Skype application, you can easily start a meeting within an Instant Message session, or start one from the main screen. This is great for initiating an ad hoc conference call, when a chat session has gotten too complicated for typing. There is no need to play around with calendars or other applications… just a few clicks of a button and you are on the path to resolution.
As mentioned in previous blog posts, Skype for Business is a component of Office 365. Therefore, the integration has allowed for meetings to be initiated using Outlook if you have a business or enterprise level subscription in either the web app or the desktop app. You will notice in your Outlook application a "New Skype Meeting" button that pulls up a familiar screen, with the same components of setting up any meeting or appointment. You select who you want to join, any date and time, and the agenda. Skype does the rest, sending the linc information to the meeting, and any applicable login information for those calling in by phone. It is simple, and best of all, doesn't require a separate conference call application to setup and monitor… and pay for.
Another powerful feature of Skype meetings is the ability to share your desktop, or allow other attendees to have control and show their desktop. Rather than explaining what button to press on a demo or what slide everyone should be on, this quickly allows everyone to have the visual they need for the conversation at hand.
Skype Does Not Require Video
And yes, Skype for Business meetings allows for video. But don't let that scare you. Just because you are having a Skype meeting does NOT mean you are having a video conference. The video component is just one aspect of Skype, and the majority of meetings are still done without a video feed. So, if you are working from home and still in your PJ's, or you are simply having a bad hair day, there is no need to worry. Each user can control if they want to be on a video feed or not. Perhaps you have a meeting in person at one location with a large group that a few remote workers could not attend. They can still get the video feed from their location of the main meeting, but turn theirs off and just allow audio.
The costs savings of conducting large meetings via this technology can really add up when you consider travel costs. While Skype or any other type of meeting software won't replace the value that meeting in person can bring (namely, the value of building relationships), in many circumstances, especially for smaller/non-critical meetings, the cost savings outweigh those benefits.
The whole idea behind Skype for Business and Office 365 is to ensure your communications don't operate in silos, truly embracing the Unified Communications philosophy. Everything, from calendars, email, chat, and conferencing can all act seamlessly together. Your phone system is no different. Consider a Unified Communications platform that takes Skype for Business and Office 365 one step further by offering the ability to integrate your existing phone system, make PSTN calls, and more.
Learn more about AltiGen MaxUC by downloading our data sheet here.