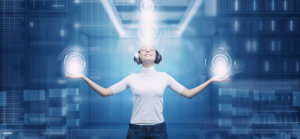 Asking this question for most businesses is like asking "how important is the air you breathe to your staying alive strategy?" Auto Attendant is an absolute necessity for a business, especially one with an internal help desk or call center, as are many of the other advanced calling features today's UC platforms are lagging behind on. A barrier to entry for many companies considering Skype for Business as their Unified Communications platform of choice has been Auto Attendant, Advanced Call Routing and Call Queuing. All must-haves for most business communication operations today. As a result, these businesses continue either putting off gaining all the advantages UC can bring them, or look to run hybrid communication platforms.
Auto Attendant provides your customers with a positive customer experience but without the expense of a full-time receptionist. It allows you to answer every call professionally and in a timely manner and can route the caller to where they need to be. It has been essential to businesses for years, and while features like instant messaging and web meetings are great for improving operational efficiency, sacrificing auto attendant for a single platform is not possible. Integration of multiple platforms becomes key.
Businesses are eager to merge their different communication silos, but lack the expertise or capital to integrate multiple solutions for their different departments on their own. Skype for Business provides a core feature set for simple voice communication, but lacks the more robust features they need. Working with a Microsoft partner such as AltiGen these businesses can now get the features Skype for Business offers, while also incorporating call center capabilities, including:
Auto Attendant
Hunt Groups
Advanced Multimedia Routing & Queuing
Web Chat Queuing
Agent/Supervisor Desktop Clients
Real-time and Historical Reporting
CRM Integration
Web-based Administration
In order to deploy a UC solution that delivers both advanced features of Skype for Business with advanced calling features requires a trusted partner, and can also result in serious savings over a DIY scenario. A recent exercise performed by AltiGen Communications revealed that, in a typical DIY Skype for Business, fully redundant deployment at a 250 employee company, the upfront costs were $186,958 for installation, and $11,449 yearly recurring. A similar hosted solution ran the same company $67,500/year, with no upfront CAPEX costs. This represented a savings of $396,634 over 3 years! After the initial 3 years, the DIY solution will anticipate higher costs to upgrade and refresh their solution, whereas a hosted solution is future proof, with no outdated hardware or software to worry about, and ability to scale up or down as needed.
ATTEND OUR WEBINAR: "Hosted Skype for Business: Cost Effectively Deploy in the Cloud"