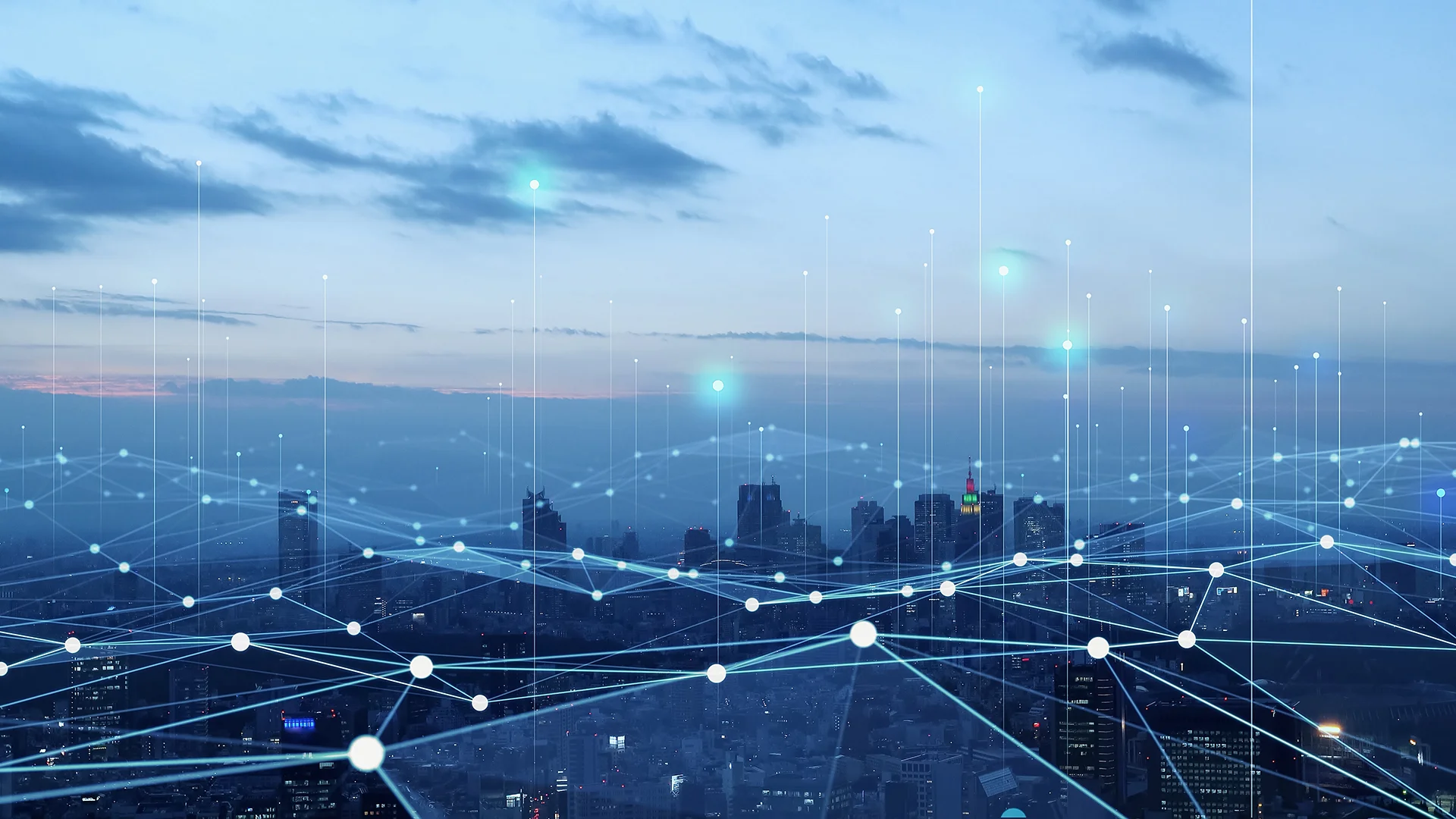 CoreInteract
A Complete Enterprise Digital Customer Engagement Platform for Teams
Route, Queue, Engage, Analyze and Report on every Customer Interaction in your native Microsoft Teams environment
Deliver Truly Exceptional Customer Service
Engage your customers throughout their entire journey – via voice and digital channels (chat, email, SMS, email, and social media)
Drive Your Digital Transformation Strategy
Integrate business communications with business systems, providing valuable information to your employees at every customer touchpoint.
Maximize Employee Productivity
Eliminate time-wasting application switching; deliver customer interactions into your employees' primary app – Teams, Dynamics, SalesForce, and more.
Get our CoreInteract eBook for Teams
Want to find out more about CoreInteract?
ROUTE
QUEUE
ENGAGE
ANALYZE
REPORT
CoreInteract Overview
Built on the Microsoft Bot Framework, deployed in Azure and natively integrated with Microsoft Teams. CoreInteract is delivered in a SaaS model and a key element in our customers' Digital Transformation strategies. Drive improved customer experience engagement using your customers' preferred communications channels. Gain new customer insights with comprehensive analytics and reporting. Boost productivity for employees whether they're in the office or working from home.
Extend the Power of Teams Phone System
CoreInteract is an Azure-based Teams Application that plugs into Teams Auto Attendant offering Superior Functionality vs Teams Call Queues. Our solution enables companies to quickly deploy Work @ Home scenarios and increase Employee Productivity.
Setup and Manage Users and Workgroups
CoreInteract's simple drag and drop design enables you to quickly manage workgroups and routing rules to meet your unique business requirements. Configure the order and priority of which workgroup will receive inbound customer requests.
Engage your Customers within Teams
CoreInteract allows you to manage your interactions natively in Teams without the need of a separate desktop application or software to install. Workgroup calls are clearly marked for your team members to easily differentiate between a customer call vs an internal call.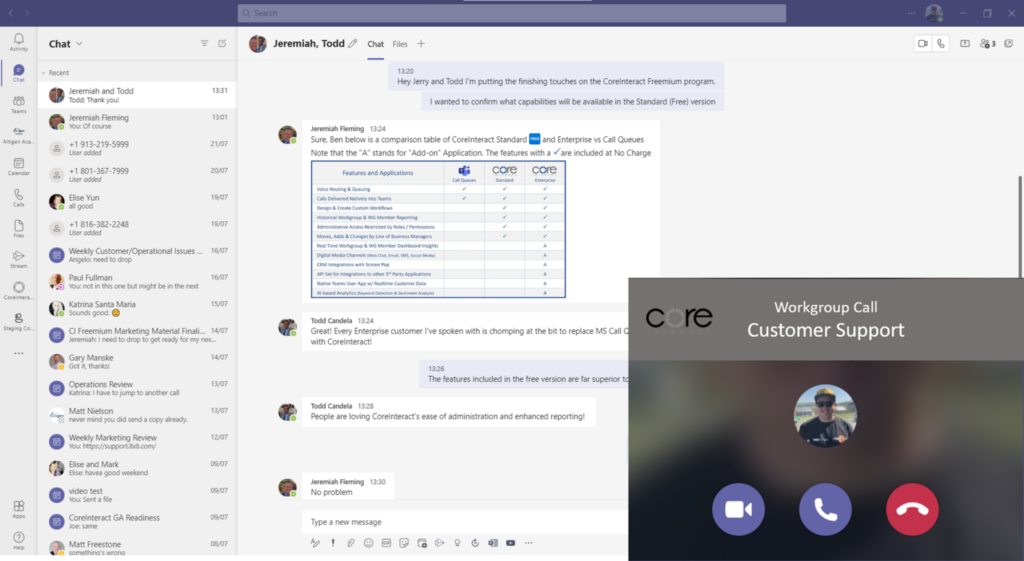 Easily Integrate with Dynamics 365
CoreInteract can retrieve a Dynamics 365 customer record with each answered call, giving you more control and customer insight than ever before, including the ability to call a customer directly within Dynamics 365. CoreInteract automatically dates and time stamps customer interactions.
Real-time and Historical Reporting
CoreInteract gives you reporting on team members, workgroups, and inbound customer requests at a click of a button. View real-time team member and workgroup performance giving you improved management oversight and control. Go further by connecting to PowerBI for advanced reporting.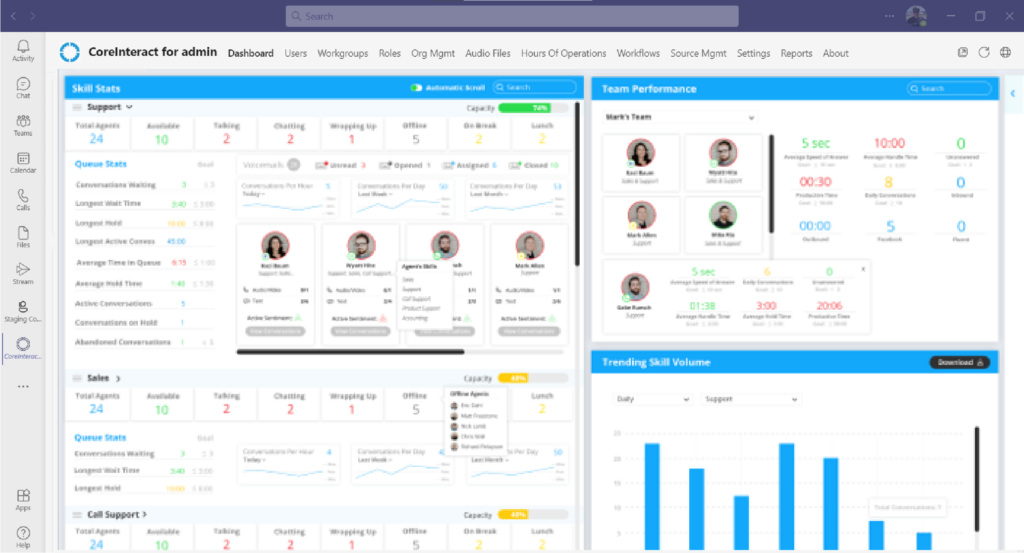 Key Benefits of CoreInteract for Teams Phone Systems
Improved Engagement
Engage with your customers and prospects using their preferred methods of communications.
Native Teams Application
All customer interactions are routed directly into Teams; no need for a separate desktop application.
Simplified Management
Enables business managers to set up, configure and manage their workgroups without involving IT.
CoreInteract vs Microsoft Teams Call Queues
CoreInteract replaces Teams Call Queues with a more powerful and easy-to-use solution for call routing and queuing. It further adds SMS, Web Chat, Email, and Social Media routing and queuing, delivering a complete Digital Customer Engagement Platform for Microsoft Teams. Built on the Microsoft Bot Framework and deployed in Azure, CoreInteract manages all customer communications channels natively within Teams.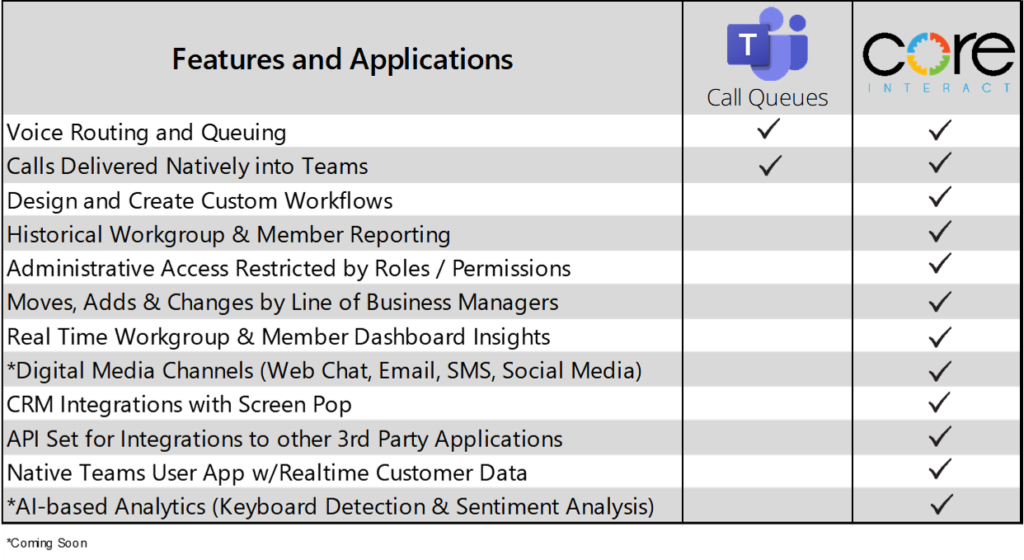 Ready to find out more about CoreAttendant?