CoreAttendant
A Native, Enterprise Teams Attendant Console for Microsoft Teams
Manage Inbound Calls Quickly and Efficiently
Intuitive User Interface
Native Teams application simplifies call answering and distribution to the requested user or department.
Powerful Features
Quick transfer, frequent contacts, search, presence, calendar integration, and organization views enhance customer service.
Workgroup Transfer
CoreAttendant uniquely offers the ability to transfer to workgroups or departments, as well as to individual employees.
Want to find out more about CoreAttendant?
CoreAttendant Overview
CoreAttendant is a native Teams application designed for Company Operators and Receptionists to efficiently manage inbound Teams calls.
With its built-in Teams Presence and Calendar integration CoreAttendant displays each employee's current and scheduled availability, enabling users to quickly answer and transfer calls to the requested employee or department.
Native Teams Application
The intuitive native Teams application provides Operators and receptionists with the tools they need to quickly find users or departments, check availability and transfer calls with a single click.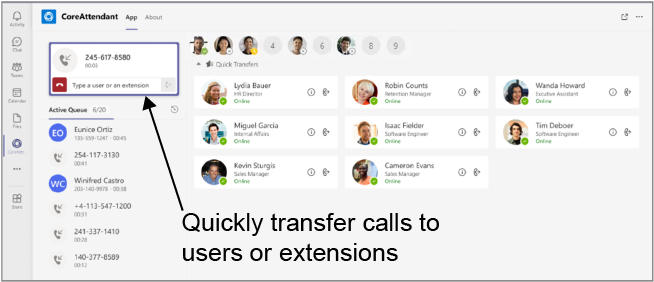 Operator Queue
While Teams is limited to processing one call at a time, in busy call environments CoreAttendant queues calls for one or more Operators, then distributes those calls to the first available operator.
Organization Hierarchy
If the requested employee is not available, CoreAttendant enables the operator to quickly view that employee's organization and offer the caller the opportunity to speak to someone in that department who is available.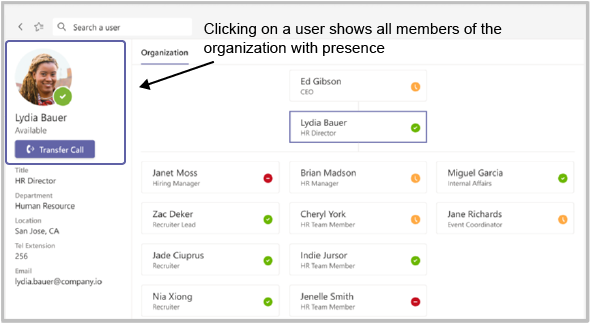 CoreAttendant Administration
CoreAttendant includes a web-based administration utility that guides you through configuring the application including configuring and managing the handling of incoming calls, operator workgroups, modes and an optoinal wrapup timer.
Key Benefits of CoreAttendant for Teams Phone Systems
Supports Multiple Operators/Multiple Sites
Enable Company Operators, branch office receptions, and departmental admins to quickly answer and transfer calls for their areas of responsibility.
Enhances Teams Phone System
Extend the capability of Teams with robust Operator Console capabilities, all natively within Microsoft Teams.
It's like a side-car for Microsoft Teams!
Improves Customer Service
Improve your customers' experience with reduced call waiting times and live human interaction.
Ready to find out more about CoreAttendant?